PubNub is a highly-available, real-time communication platform optimized for maximum performance. You can use it to build chats, IoT Device Control systems, Geolocation & Dispatch apps, and many other communication solutions.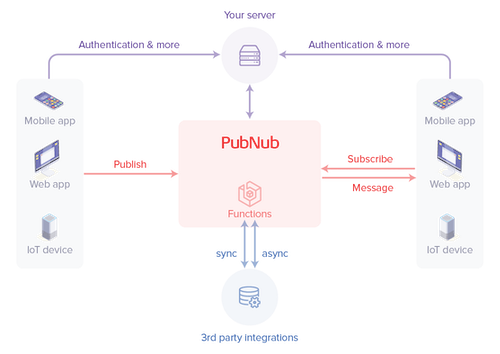 Let us take care of the infrastructure layer of your apps so that you can focus on your application. We're offering global scalability, 99.999% uptime SLA, and an extendable platform for new real-time use cases and other third-party APIs.
First steps​
Read through the chapters of our first steps documentation to understand how to connect the world in one-tenth of a second.
Begin your first step
→
Pricing​
We offer a free plan with basic support for testing and development. When you're ready to move to production or exceed 200 monthly active users (MAUs) and/or 1 million transactions/Functions executions, you need to upgrade to a paid account.
MAUs are unique users (with unique user IDs) that connect to PubNub at least once in a calendar month and send an API call. If you'd rather pay for transactions, you may consider transaction-based pricing.
Top pick SDKs​
Try PubNub today​
Launch and scale your real-time application in minutes on PubNub's reliable and secure network.
Sign up
Don't feel like leaving this page to sign up?